Usain Bolt: The most successful athlete in world championships
Usain Bolt won three gold medals at the World Championships, bringing his career medal count to 10 (eight golds, two silver). Usain Bolt took gold in the 100- and 200-meter races, as well as the 4X100-meter relay.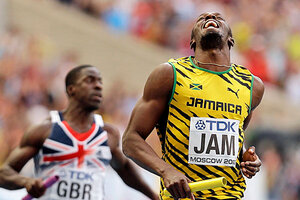 (AP Photo/Anja Niedringhaus)
Usain Bolt, already enshrined as one of the greatest Olympians of all time, became the most successful athlete in world championship history when he anchored Jamaica to victory in the 4x100 meters relay on Sunday.
Bolt followed up the 100 and 200m double with his third gold in the final event, taking his all-time tally to eight. That matches American trio Carl Lewis, Michael Johnson and Allyson Felix but the Jamaican moved ahead by virtue of his two silvers from 2007.
Shelly-Ann Fraser-Pryce also completed the hat-trick as Jamaica won the women's 4x100 relay in the second-fastest time ever, giving them all six sprint golds in Moscow to bring a smile back to the Caribbean island following the doping cloud surrounding the build-up to Moscow.
On a high-quality final day, there was a Kenyan middle-distance double as Asbel Kiprop retained his 1,500 metres title and Eunice Sum took a surprise gold in the women's 800.
Frenchman Teddy Tamgho became the third-longest triple-jumper in history as he soared 18.04 metres to win France's only gold of the week, while Christina Obergfoell's javelin victory gave Germany their fourth field event title.
---