NATO airstrike kills civilians in Afghanistan, claims Karzai
NATO airstrike hit at least eight civilians, including three women, four children, claim Afghan officials. NATO says only 10 Taliban fighters were killed.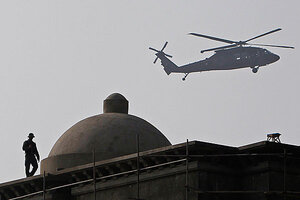 REUTERS/Omar Sobhani
President Hamid Karzai has condemned a NATO air strike in Afghanistan's lawless east that Afghan officials say may have killed up to eight civilians, the latest evidence of friction between the president and his international backers.
Karzai's office also lashed out on Sunday at the senior U.S. diplomat for Afghanistan and Pakistan, James Dobbins, after Dobbins referred to the Afghan conflict as a "civil war".
"President Hamid Karzai termed the attack on women and children against all internationally agreed principles and strongly condemned it," Karzai's office said in a statement.
Civilian deaths have been a long-running source of friction with Afghan leader Karzai's international backers. He has forbidden Afghan troops from calling for foreign air strikes, though that ban is not always adhered to, and NATO advises crews not to fire at or bomb populated areas.
The air strike was targeting insurgents in the border province of Kunar, a mountainous province that shares a long and porous border with lawless tribal areas of Pakistan. The province has long been considered a hub for foreign insurgents, including members of al Qaeda.
"We can confirm that we undertook a precision strike in ... Kunar, and are able to confirm 10 enemy forces killed," said a spokeswoman for the NATO-led force in Afghanistan, First Lieutenant Ann Marie Annicelli.
NATO had received no reports of civilian casualties, she said.
---