Oil mislabeled? Oil in Quebec train disaster mislabeled as less volatile variety.
Oil mislabeled: The train that exploded this summer in Lac-Megantic, Quebec, killing 47 people, carried explosive 'Group 2' oil mislabeled as a more stable 'Group 3' flammable liquid, officials say.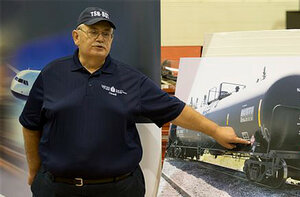 Adrian Wyld/The Canadian Press/AP
The oil carried by a freight train that derailed and exploded in Quebec this year had been misclassified as a less dangerous type of crude, Canadian officials said Wednesday, and they urged US and Canadian regulators to ensure dangerous goods are accurately labeled.
Forty-seven people were killed in the July disaster when the unattended train rolled away and derailed in the town of Lac-Megantic near the Maine border and several of its oil cars exploded. The downtown was destroyed.
The train's shipment of North Dakota oil was mislabeled as a "Group 3" flammable liquid, when it should have been given a more explosive "Group 2" classification, the Canadian transportation safety board's chief investigator, Donald Ross, said.
Asked if proper labeling would have changed what happened, Ross said the work of the board is not done.
Officials initially said they were surprised by the disaster because they thought the oil being transported was unlikely to ignite.
But Ross said the oil was as volatile as gasoline, and tests showed the oil was wrongly documented and should have been classed in the same category as gasoline.
Safety regulations for the transport of crude oil differ depending upon the type of oil and its flashpoint — the lowest temperature at which it will ignite.
---