Tropical cyclones ravage both of Mexico's coasts, leaving at least 47 dead
Twin storms left scenes of havoc on both of Mexico's coasts on Tuesday, with tens of thousands of tourists stranded in resort city of Acapulco on the Pacific and heavy damage reported along the Gulf coast.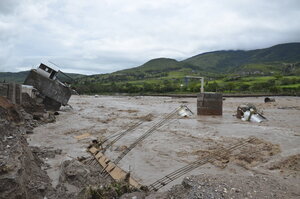 Alejandrino Gonzalez/ AP Photo
The death toll rose to 47 Tuesday from the unusual one-two punch of a tropical storm and a hurricane hitting Mexico at nearly the same time. Authorities scrambled to get help into, and stranded tourists out of, the cutoff resort city of Acapulco.
With roads blocked by landslides, rockslides, floods and collapsed bridges, Acapulco was cut off from road transport after Tropical Storm Manuel made landfall on Sunday. The terminal at the city's international airport was flooded, but not the landing strips.
Emergency flights began arriving in Acapulco to evacuate at least 40,000 mainly Mexican tourists stranded in the resort city where some streets were transformed into raging brown rivers.
Interior Secretary Miguel Angel Osorio Chong told the Radio Formula that 27 people had died because of the storm in the Pacific coast state of Guerrero, where Acapulco is located. Osorio Chong said 20 more people died nationwide, many as a result of former hurricane Ingrid, which struck the Gulf coast on Monday. Mexican meteorologists said it was the first time since 1958 that two tropical storms or hurricanes had hit both the country's coasts within 24 hours.
While most Acapulco hotels seemed to be operating normally on Tuesday, many outlying neighborhoods were without water or electricity, and floodwaters were knee-deep at the city airport's check-in counters.
Federal officials said it could take at least another two days to open the main highway to Acapulco, which was hit by more than 13 landslides from surrounding hills, and to bring food and relief supplies into the city of more than 800,000 people.
Two of Mexico's largest airlines, Aeromexico and Interjet, began running flights to and from the still-swamped international airport. Those with tickets got first priority, then families with small children or elderly members, officials said.
---