Cambodia's King Norodom Sihamoni reappoints premier despite opposition protests
Opposition lawmakers in Cambodia boycotted Tuesday's session of the National Assembly to protest the country's July election, which they say was rigged.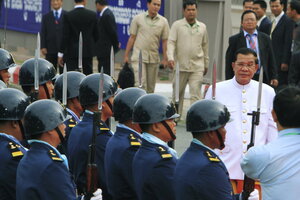 Heng Sinith/ AP Photo
Opposition lawmakers boycotted the opening of Cambodia's parliament on Monday, threatening a constitutional crisis, after the authorities refused to hold an independent inquiry into alleged vote-rigging by the party of Prime Minister Hun Sen.
King Norodom Sihamoni issued a decree reappointing Hun Sen, giving the royal seal of approval to the results of July's general election, and the long-serving premier is expected to outline his new government's policies to parliament on Tuesday.
Security at the National Assembly and elsewhere in the capital, Phnom Penh, was tight, with many roads blocked off after opposition protests last week in which one man died.
"Our goal still stands. We are boycotting today's meeting because the truth has not been uncovered and there has been no breakthrough," Yim Sovann, a lawmaker for the opposition Cambodia National Rescue Party (CNRP), told Reuters.
"This meeting is a violation of the constitution."
The National Election Committee (NEC) says Hun Sen's Cambodian People's Party (CPP) won 68 seats in the July 28 election to the CNRP's 55. That was already a big setback for Hun Sen, but the CNRP claimed victory, saying it was cheated out of 2.3 million votes.
---