Pussy Riot member goes on hunger strike in prison
Nadezhda Tolokonnikova, a member of the Russian punk rock group 'Pussy Riot,' declared that she was going on a hunger strike to protest the harsh working conditions in prison.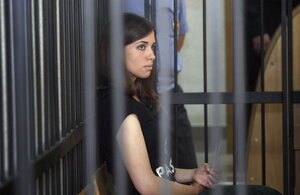 AP/ File
One of the imprisoned members of the Russian punk group Pussy Riot declared a hunger strike on Monday to protest what she described as inhumane working conditions and threats to her life at a women's penal colony.
Nadezhda Tolokonnikova is serving a two-year sentence for "hooliganism motivated by religious hatred." She and two other group members were arrested in early 2012 after Pussy Riot burst into Moscow's main Orthodox cathedral and tried to perform a "punk prayer" denouncing Vladimir Putin.
In a passionate five-page letter published on the group's blog, Tolokonnikova said inmates in her penal colony are forced to work up to 17 hours a day in a shop that makes police uniforms in order to fulfill the quotas. Brigades that fail to meet the quotas are punished by being denied food, prevented from using the bathroom or made to stand outside in the cold, she wrote.
She also said the deputy warden threatened her last month by suggesting that other prisoners would be encouraged to kill her in retribution for her attempts to challenge the prison system.
"If they find out that this happened because of you, then things will certainly never be bad for you because nothing is ever bad in the next world," Tolokonnikova quoted the deputy warden as saying.
---