Berlusconi about-face revives Italian government
Berlusconi: Italian government foe turned friend. Silvio Berulsconi made a U-turn and threw his support behind Italian Premier Enrico Letta in Wednesday's confidence vote.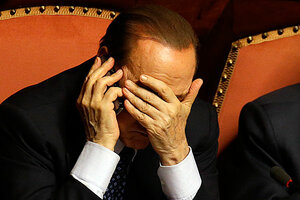 (AP Photo/Gregorio Borgia)
Silvio Berlusconi made a stunning about-face Wednesday and threw his support behind the government of Premier Enrico Letta in a confidence vote, acknowledging defeat on the Senate floor after defections in his party robbed him of the backing he needed to bring down the government.
The three-time premier took the floor in an unexpected address after Letta made an impassioned plea to keep his 5-month-old left-right coalition alive.
"Italy needs a government that can produce structural and institutional reforms that the country needs to modernize," Berlusconi said in his brief remarks. "We have decided, not without internal strife, to vote in confidence."
The Senate then voted to back Letta 235-70 with 14 abstentions and one absence.
It was a major setback for Berlusconi, who over the weekend had demanded his five Cabinet ministers quit the government and bring it down, incensed at a vote planned Friday that could strip him of his Senate seat following his tax fraud conviction and four-year prison sentence.
But in a remarkable challenge to Berlusconi's authority, several allies balked and said they would instead support Letta's hybrid coalition. Italy's finances are in a critical state, pressing economic measures must be passed and Italy's president has insisted that a new electoral law be passed to avoid inconclusive results in any future general election.
---