Why Malala Yousafzai won Europe's $65,000 human rights award
Malala Yousafzai won the Sakharov Award, Europe's top human rights award. The Pakistan teenager was shot by the Taliban for being an advocate for girls' education.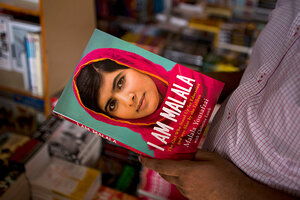 B.K. Bangash/AP
European lawmakers awarded their top human rights prize Thursday to Pakistani schoolgirl Malala Yousafzai, who last year survived a Taliban assassination attempt because of her outspoken support for girls' education.
U.S. intelligence leaker Edward Snowden and a group of imprisoned Belarus dissidents were also in the running for the 50,000-euro ($65,000) Sakharov Award.
Previous winners include Nobel Peace Prize laureates Aung San Suu Kyi and Nelson Mandela. The award came one day ahead of the announcement of the Nobel Peace Prize, for which Malala also is a contender.
"The European Parliament acknowledges the incredible strength of this young woman," said Martin Schulz, the president of the EU legislature. "Malala bravely stands for the right of all children to be granted a fair education. This right for girls is far too commonly neglected."
Europe's three major political groups had nominated the schoolgirl in a show of united support for her cause.
---