Borrow a Muslim? A 'living library' to prick stereotypes
In 12 countries, people check out people for a 30-minute conversation to challenge their own prejudices.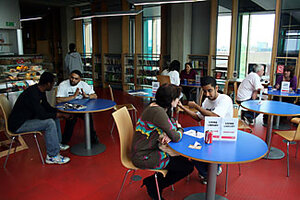 Mark Rice-Oxley
It works like a conventional library. Tables and chairs are set out for study. Librarians bustle purposefully, staffing the checkout desk.
Except these aren't books on loan. They're people.
Welcome to the Living Library. Here, you borrow individuals who represent stereotypes that often are the target of prejudice or hatred.
At this east London library on a recent Saturday, there were 26 "books" available, including a Muslim, an immigrant, a transgender individual, a witch, and an Indian atheist.
Readers borrow them for half an hour, hear their narrative, question them, even pry a little, and – so the theory goes – break down some of their preconceptions and stop "judging the book by the cover."
The idea is the brainchild of Ronni Abergel, a Danish antiviolence campaigner, who has taken the Living Library to 12 countries and watched it flourish in places as diverse as Australia and Turkey.
"We live in a time where we need dialogue," says Mr.
Abergel. "With dialogue comes understanding and with that comes tolerance and that's the mission of the Living Library: to promote understanding and tolerance through dialogue."
There is certainly plenty of dialogue at this London venue.
At one table, a Rwandan refugee explains to a listener why immigrants cannot be dismissed both as a drain on the public purse and a threat to local jobs. At another, a transgender individual relates why she felt biologically compelled to change sex. An Indian atheist and a Muslim are setting forth their worldview to "readers."
And those 'books' that aren't currently checked out – among them a witch, a funeral director, a medium and a police officer – are swapping stories in the back room, eating sandwiches, and waiting for their next appointment.
---