Richard Bergenheim: an appreciation
As editor, he brought spiritual strength, compassion, and an omnivorous appetite for news.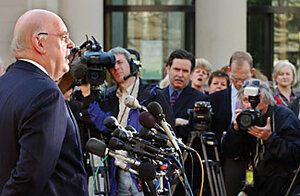 john nordell/the christian science monitor/file
Richard Bergenheim, the former editor of The Christian Science Monitor who passed on July 20, significantly increased the newspaper's focus on the Web. He also led the Monitor through one of the most dramatic episodes in its history when a correspondent was taken hostage in Iraq.
Richard, a teacher and practitioner of Christian Science healing and a former member of the church's Board of Directors, had recently left the editorship of the Monitor and was appointed president of the church. He was in Kansas City, Mo., with his wife, Phebe, as part of a six-week tour to encourage support of the Monitor and other Christian Science publications when he passed on unexpectedly and peacefully in his sleep.
"There aren't words to express the gratitude of the Board of Directors and the Board of Trustees of the Christian Science Publishing Society for all that Richard has given over the years to his Church," the directors said in a statement. "Richard has been a friend and mentor to many of us and we will miss him greatly."
Perhaps no episode in his tenure was as trying or ultimately as triumphant as the saga of the kidnapping and eventual release of Monitor correspondent Jill Carroll.
On the sunny morning of April 2, 2006, bomb-sniffing dogs searched Richard's rented limousine and then he was driven through the heavily guarded rear entrance to Boston's Logan airport. The tall, burly Bergenheim was escorted to gate 8A in the international terminal by agents of the Federal Bureau of Investigation, State Department, and US Customs office.
---