Dining on a dollar a day
A California couple's experiment in extreme food budgeting taught them a lot about how the poor eat.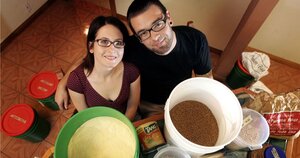 The San Diego Union Tribune/ZUMA
At first glance, there's nothing extraordinary about the kitchen in Christopher Greenslate's house: plenty of cabinets, colorful tile countertops, an island in the center with a few stools, and the requisite KitchenAid. It's not until you see several green bins with bright orange lids lined up against the wall labeled "cornmeal, $.51 per lb. 1 cup = $.19" and "rice, .51 per lb., 1 cup = $.22," and the large sacks of potatoes, onions, flour, and pinto beans, that you realize something unusual is going on.
Those bins and bags – as well as a handful of clear plastic storage containers inside the cabinets – are what remains of an experiment Mr. Greenslate and his partner, Kerri Leonard, conducted in September. The couple, who are both teach English and social justice in southern California high schools, tried to live for one month eating no more than a dollar's worth of food a day each. (That required buying in bulk; hence the green bins.) Although the project ultimately raised the public's awareness of poverty and hunger, it started out as a way to lower the couple's food bill.
"Kerri noticed it was pretty high, about $100 to $150 a week. We were buying prepackaged foods, frozen foods, soy milk, lots of organic fruits and vegetables," says Greenslate. (He and Leonard are vegans and do not eat animal products.) When they compared their own food costs with the international poverty rate – $1.25 today, according to the World Bank – Greenslate says they were astonished. "Here we were spending all this money on food every week, and the contrast between that and what those in poverty live on was stark. I wondered if we could actually feed ourselves on a dollar a day," he says.
---