Filipina activist boosts overseas workers
Connie Regalado prods officials to do more for workers hit hard by the global financial crisis.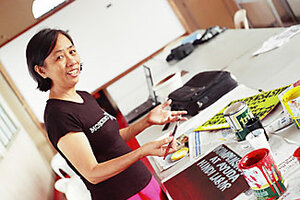 Jonathan Adams
In her office in this hectic part of Manila, Connie Regalado paints signs for a rally the following day. Her latest cause: calling on the government to do more for overseas Filipino workers who are losing their jobs due to the global economic slump.
A couple days earlier, she and other activists went to the airport to pick up 82 such workers, who flew from Taiwan at their own expense. They'd been axed from semiconductor-factory and other low-end jobs, victims of downsizing. The government was also at the airport, boasting of "one-stop shop" services for the workers, inviting them to the presidential palace, even offering them an appearance on a TV game show.
Ms. Regalado wasn't impressed. "It's a sham," said Regalado. "The 'one-stop shop' services aren't even palliative measures. There's no comprehensive plan to address the problem."
That no-nonsense approach has guided Regalado over nearly two decades of activism. Cynical yet committed to social justice, Regalado has dedicated much of her adult career to improving the working conditions, political voice, and basic rights of overseas Filipino workers.
Such workers make up more than 10 percent of the country's 96 million population, with 4 million Filipinos on contracts abroad, another 4 million with immigrant status, and more than 2 million more working undocumented in the United States, Malaysia, and elsewhere, according to Regalado. Last year these workers remitted some $15 billion to the Philippines – about 10 percent of the country's total economic output.
---