A chess champion crusades to make the game 'cool'
Russian Alexandra Kosteniuk, the women's world title holder with a fashion-model image, wants to broaden the game's appeal to young people.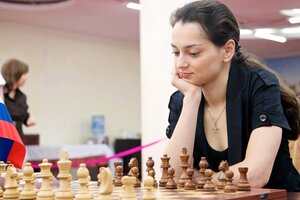 Diego Garces/Chesspics.com
KEY BISCAYNE, FLA.
Alexandra Kosteniuk's hand quivers as she picks up a pawn and skips it to the center of the chessboard on the table before us. I wonder, just for one silly moment, whether she is trembling in fear of her opponent.
Perhaps even the reigning Women's World Chess Champion can have bad days, I speculate, when a beginner like me stands a chance of ambushing her king and declaring "Checkmate," sending her reeling in admiration at my stealth and cunning?
No, I discover after three minutes' play, during which she slaughters me in just 14 moves. She doesn't. And her shivers are nothing to do with nerves – it is simply a chilly day, here on the open veranda of an oceanfront cafe on Key Biscayne, Fla.
"Your first move was good," she compliments me, allowing me a fleeting second to feel proud of myself for my opening "pawn to E4" maneuver. Then she adds, "But by your fourth move, the position was hopeless," referring to my clumsy sacrifice of a knight.
A Russian with good looks and flowing hair, Ms. Kosteniuk has been dubbed the "Anna Kournikova of chess." It's a label she scorns, though: the fetching Kournikova, she points out, never won a singles tennis tournament.
By comparison, Kosteniuk has made all the right moves and swept the board in the world of chess. A master when she was 8 and a grandmaster at 14 – rankings that denote supreme skills – she has since captured every title available to a woman player, culminating in the Women's World Chess Champion crown in Nalchik, Russia, last September.
But the undeniable similarity to Kournikova is that Kosteniuk is not averse to striking a glamorous pose for the cameras, sometimes while dressed in little more than a bikini. Her purpose, she says, is to illustrate her mantra, "Beauty and brains can go together."
---