An independent bookseller stars in her own fairy tale
Nancy Traversy took on the big chain-store dragons to rule her own realm – Barefoot Books for children.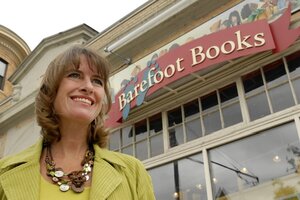 Mary Knox Merrill/Staff
Here, amid the strollers and nannies and crawling babies, a giant coat tree with tiny coats, and one little boy howling that he won't, he refuses, to leave, two woolly sheep sit quietly alongside a warren of bunnies. Across the room, there's a donkey, a scarlet macaw, several princes and princesses, a dinosaur herd, and a small schooner's worth of pirates, their hair tied neatly in matching kerchiefs. They're puppets, of course, the quietest residents of an enchanted land with crayons, blocks, puzzles ... and hundreds and hundreds of books. This small children's kingdom – this corner bookstore and benevolent barnyard/zoo/prehistoric plain – is, after all, in the business of marvels and dreams.
But look between the covers of Barefoot Books – turn the pages slowly – and there's another story. Alongside those dinosaurs and the pirates, one cofounder of this bookstore and publishing company has her own fantastical tale. In an era when conventional wisdom in publishing holds that tots want nothing but Disney, and that independent bookstores are being vanquished by the big, bad book chains, Nancy Traversy has so far been victorious. In 2007, her company made Inc. magazine's list of the fastest-growing businesses.
---