People making a difference: Teny Gross
The best way to curb gang violence, says this Providence, R.I., mediator, is to offer help from street workers who've been there themselves.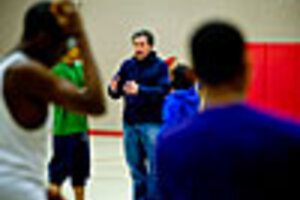 Ann Hermes/The Christian Science Monitor
Early March brought a harsh week of loss in Providence, R.I. Three people died in gun violence: a 20-year-old man, found in an apartment near the city's Smith Hill neighborhood; a 17-year-old boy, shot at a party; and a 19-year-old Laotian man, by suicide. They were survived by family and friends, all in mourning – and with the younger among them quite possibly enraged to the point of wanting revenge.
For Teny Gross, who works to reduce youth violence in Providence with his staff of street workers (ex-offenders trained in violence intervention), this was just another week. He spent hours consoling the families. More urgently, he assessed the likelihood of retaliation by friends of the victims.
"Violence ripples," says Mr. Gross, who heads the Institute for the Study and Practice of Nonviolence (ISPN) in Providence, a city of 175,000. By hiring ex-offenders, Gross trusts these former criminals to speak from their own experiences and convince young people not to answer the loss of their friends with more shootings and bloodshed.
The job is exhausting, bringing deep immersions into other people's grief. The 17-year-old's killing was suspected to be gang-related, and Gross worried that enemies of a gang in the city's Laotian community might mock the suicide on the Internet, forcing the gang to react. On the phone with the 20-year-old victim's mother, Gross gently offered help with funeral arrangements and asked about the young man's friends. "Let's remember that these guys are hurting, too," he told her, "and we need to make sure they don't do anything rash."
---