How to clean up a lake? Floating islands might be the answer.
Man-made islands can remove ammonia, heavy metals, and other chemicals from the water.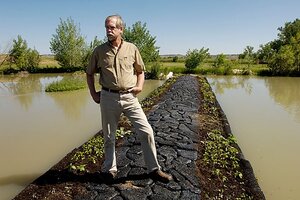 David Grubbs/Billings Gazette/AP
Bruce Kania built his large home atop a bluff with an expansive view of the Yellowstone River, which flows past on its 670-mile journey from Yellowstone National Park to its confluence with the Missouri River.
Mr. Kania moved here a decade ago to enjoy the natural setting. But he soon began to worry about the surface water draining into the Yellowstone. Kania's black dog went for a swim one day in a pond on his property, and the dog came out of the water covered in slime.
"You could smell him from 50 feet away," Kania said.
The experienced inventor got to thinking about water quality. Irrigation ditches divert clean water from the Yellowstone. The ditches feed pastures and fields, and what is left drains back into the river. Beef cattle roam the land. In the nearby town of Shepherd, a giant feedlot produced tons of manure every day.
Where some saw pollution, Kania saw nutrients.
"It became apparent that this represented a terrific opportunity for somebody," he said. "What can be done with those nutrients?"
The answer is floating bio-islands.
In his college days, Kania had been a fishing guide in northern Wisconsin. There, he saw giant natural floating islands that had grown over generations, big enough to support trees. These areas had huge muskellunge, prized sport fish, and Kania thought the islands were one reason. They scrubbed the water clean and provided the forage that grew big fish.
---