People making a difference: Andi Arnovitz
This Israeli fabric artist stitches Jewish and Palestinian themes into 'Garments of Reconciliation.'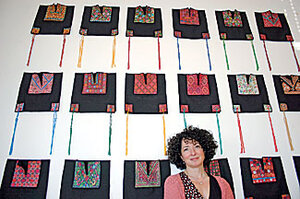 Ilene R. Prusher/The Christian Science Monitor
Since she was a little girl Kansas City, Andi Arnovitz has had a fascination with fabrics. Her father ran three fabric stores in Missouri, and she loved to touch the textiles, learning where they came from, and imagining what future stories they would weave.
So perhaps it isn't surprising that she grew up to be an artist who, after a decade of life in Israel, creates mixed-fabric works that turn heads and challenges assumptions.
The top part of each piece is unmistakably Palestinian, made of the central square in a traditional woman's embroidered dress. The bottom part is unambiguously Jewish, made to resemble the knotted strings that hang either from a prayer shawl or other religious men's garb. The end result: a colorful hybrid cloth, each piece mixing an Arabic qabbeh with Jewish tsitsit, fittingly named "Garments of Reconciliation."
"This is about putting oneself in the other person's clothing. And I think that's the only way we're going to get anywhere," Ms. Arnovitz explains in her sunny studio, where 30 child-sized garments hang on the wall waiting for an appropriate exhibition space. A life-size version of one is now on exhibit at the Stern Gallery at the Hebrew University of Jerusalem.
"I deliberately made them small because ... I think peace education starts early," says Arnovitz, who retains something of the friendly Midwestern girl with apple-red cheeks and a joyful mess of curly hair. "I tried to take two classic cultural garments of two peoples in conflict. It was a way of bringing together two traditions in a gentler way, with my own hands."
---