People making a difference: Sheema Kermani
In Pakistan, this women's rights activist stages plays that stir controversy – and thought.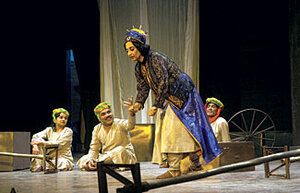 Fahim Siddiqi
Last December, when the theater troupe Tehrik-e-Niswan (Women's Movement) performed in Orangi Town – the largest slum in the Pakistani port city of Karachi – it did not expect Muslim clerics to make up the bulk of the audience.
At the invitation of a nonprofit organization, the activist troupe was staging a play about child abuse, which features a cleric as a molester. "We were too scared to perform," says Asma Mundrawala, one of the actors. "But Sheema encouraged us to go on, reminding us that this was the exact audience we were trying to reach."
Sheema Kermani is the founder of Tehrik-e-Niswan, considered the cultural wing of the women's rights movement in Pakistan. For 30 years, Ms. Kermani has staged plays in low-income urban and rural communities that touch on taboo topics, including domestic violence, rape, child molestation, the claustrophobic fate of unmarried women, and the importance of education for girls.
The troupe flourished in the 1980s, when then-military dictator Gen. Muhammad Zia-ul-Haq imposed draconian Islamic laws that curtailed women's rights. One piece of legislature, for example, required the government to prosecute rape victims for pre- or extramarital sex. During that time, Kermani directed and acted in plays such as "Anji," in which her character is raped on stage, and "Chadar Aur Chaardiwari," in which a young girl commits suicide, which is illegal in Pakistan.
Given the controversial nature of her plays, Kermani concedes that performing in villages and urban slums across Pakistan "is always a risk," adding quickly, "but that's the point."
---