People making a difference: Jeremy Gilley
This actor and filmmaker envisions that world peace begins with just one day of peace.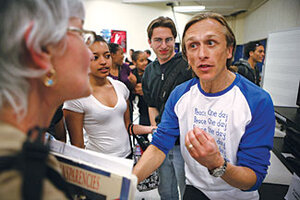 Melanie Stetson Freeman/Staff
Jeremy Gilley doesn't have time for skeptics. He prefers the company of hopeful humanitarians, sincere celebrities, and most of all, children, who recharge him with their enthusiasm for his quest.
That quest is both profound and modest: to have the whole world observe – even if just once a year – a day of peace, a day when the violence stops and bridges of trust are built so that, eventually, lasting peace can be reached.
"Why peace for only one day?" That's the inevitable question Mr. Gilley encounters as he travels to schools promoting "Peace Day" and a related online curriculum. This time it's from a ninth-grader at Boston's MATCH Charter Public School.
"You have to start somewhere," he tells the assembly of more than 90 freshmen. "If we can get one day right, then we can get two. The wonderful thing about getting one right is that the next day it doesn't all crumble.... If you say 'sorry' to somebody on that day, then that 'sorry' lasts forever."
Fed up with a constant stream of violence around the world and in the media, Gilley, a British actor-turned-filmmaker, decided to use his camera to try to make history, as well as record it. His idea was to ask heads of state around the world to agree to a date on the calendar to mark a "peace day" with cease-fires and humanitarian acts.
Along the way, Gilley recorded his efforts, figuring lessons would emerge from either success or failure. "I thought it was going to take a year to film; now it's 10 years on," he says with a chuckle.
He finished the film, "The Day After Peace," in 2008, and along the way his London-based nonprofit group Peace One Day veered close to bankruptcy more times than he'd care to recall. But reaching milestones kept him going.
---