People Making a Difference: Nadia Bitar helps Liberian orphans
The fashion model-turned-philanthropist aims to build a new home for them.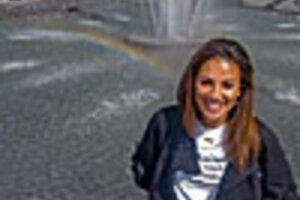 Stephanie Keith/Special to The Christian Science Monitor
Monrovia, Liberia; and New York
Nadia Bitar has experienced life's extremes. As a young child, she rode in a BMW driven by a chauffeur. The car was a gift to her then-13-year-old older sister from their father, she says.
But she has also seen dead bodies strewn in the streets of her hometown, Monrovia, Liberia, and lived as a refugee. These extremes have shaped Ms. Bitar. Despite the hardships, she insists that she is "blessed," both for what she has been given and what she has survived.
These days, as an adult, she's trying to help Liberia recover from 14 years of devastating civil war through a nonprofit aimed at improving the lives of Liberian orphans.
Hailing from mixed Liberian and Lebanese heritage, Bitar is slender and statuesque, with golden-brown hair. After growing tired of modeling, a part-time occupation with no job security, she worked a short stint as a VJ for the youth-oriented video channel MTV Africa.
Her Haven Missions, begun in late 2006, is a response to what Bitar describes as her "early midlife crisis." "At a certain point, you think, 'Is this all there is to life? After all I went through?' " she says. "You say, 'Are you going to be a person that always takes, or are you going to give back?' "
During almost two decades of intermittent civil war, hundreds of thousands of Liberians were displaced and nearly 250,000 killed. Today, six years after a peace accord, most Liberians live in poverty.
More than half of Liberia's 3.5 million people are under the age of 18. The mortality rate for children under 5 is among the highest in the world, school enrollment is low, and nearly 21 percent of 5- to 14-year-olds work as child laborers, according to UNICEF.
---