People Making a Difference: Lyndon Harris
During 9/11, this New York clergyman experienced true heroism. But he still had to find his own path to forgiveness.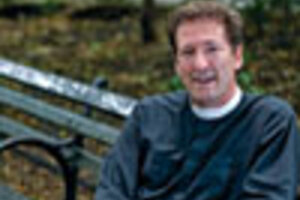 ann hermes/the christian science monitor
Forgiveness didn't mean much to the Rev. Lyndon Harris on Sept. 11, 2001. He was too busy helping rescuers at the World Trade Center towers. He couldn't have known that one day he, too, would require rescue from his own ground zero.
After the twin towers fell, Father Harris spent the morning evacuating children from the nursery school at Trinity Church Wall Street – two blocks from the crash site. As he prayed and worked, he had no idea how dramatically his life would change.
All the children and their parents working nearby survived. For Harris the day went by in a blur. He spent most of it on the street, helping. The next morning, still dazed, he arrived at little St. Paul's Chapel, just up the street from Trinity. Ashes covered the cemetery out back, but the 200-year-old sanctuary where George Washington once worshiped was intact.
As the newly appointed priest in charge of St. Paul's, Harris made a decision. With his superiors at Trinity out of town, he spontaneously opened the chapel to the hundreds of workers at ground zero. For eight months, St. Paul's became a refuge to firefighters, workers, heavy-equipment operators, and police officers.
Open 24 hours a day, St. Paul's served more than a half million meals. Counselors, musicians, and an untold number of volunteers from around the world helped. The grimy faces and worn bodies of the workers showed the strain of their bleak work. But the smiles and uplifted waves to news cameras also revealed how profoundly touched these workers felt by the outpouring of love. Cards, letters, posters, quilts, and pictures hung from every fence, surface, pew, and wall of the "little chapel that stood."
---