People making a difference: Mohammed Salifu
This street-savvy youth counselor helps women and girls who leave home to look for work in Ghana's capital.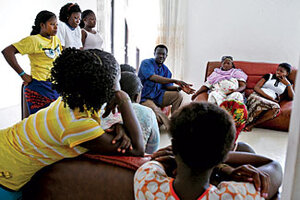 Peter DiCampo
When Fati al-Hassan first moved to Accra, she was barely able to make ends meet. The middle-aged mother of six came to Ghana's capital city from her home in the north, where her husband, a farmer, struggled to feed the family.
Mrs. Hassan hoped to find work and send money back for her children, but instead she found herself making less than $2 a day doing backbreaking labor, while sleeping on the streets of the city's sprawling slums.
All of that changed when she met Mohammed Salifu, another northern Ghanaian in Accra, who has been helping migrant workers from his home region for nearly 20 years.
Mr. Salifu was able to give Hassan a small loan, which she used to start her own business trading goods from the north in Accra. She paid it back and received a second and third loan. Now she pays for her children to attend school and owns a small plot of land in her village, practically unheard of for a northern woman.
"I just feel like I have to help," says Salifu, who founded the Kayayo Youth Association (KAYA) in the heart of Old Fadama, a shantytown that has become a haven in Accra for outsiders. "I have to help, because I can't say I'm proud to be a northerner while I see my people standing by the roadside, waiting to carry someone else's things for their daily bread. It's very, very terrible."
Salifu is referring to the Kayayo, a term used to describe thousands of women and girls from the north who move to the more prosperous cities of the south. Many work as porters, carrying heavy loads on their heads for tiny amounts of money. They sleep 10 or 20 to a room in cramped shacks. Often they turn to prostitution to supplement their meager incomes.
---