People making a difference: Robert Quinn
When scholars face threats, this global networker finds them safer places to do their work.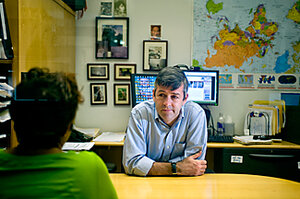 Ann Hermes/The Christian Science Monitor
Robert Quinn has a plane to catch. He also has to write a speech for a conference in the Netherlands. But first he has to help a student from Azerbaijan get to a safe place. Because that's what Mr. Quinn does: He saves scholars from danger.
"I just help the people who are helping other people," says Quinn. As founder and executive director of Scholars at Risk (SAR), Quinn and his small staff match scholars with a network of more than 200 universities and colleges in 26 countries. The goal? To find a place where academics can work free from threats to their physical, emotional, and professional safety.
The SAR team takes threats to scholars seriously. For example, in September 2001, Prof. Dayan Dawood, dean of Syiah Kuala University in Aceh, Indonesia, spoke publicly about the university's need to provide neutral space to discuss peaceful resolution to the political violence in his country. Four days later, he was assassinated.
"We're trying to build a better world through promoting respect for knowledge and the free exchange of ideas," Quinn says.
---