Preventing suicides in the military
The death of Kim Ruocco's husband led her to try to put a stop to others.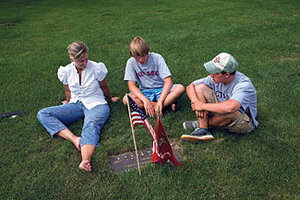 MELANIE STETSON FREEMAN/STAFF
When John Ruocco, a Marine Corps major, committed suicide after a deployment in Iraq, his wife, Kim, didn't hide from the issue.
Instead, she read about it: books by mothers who had lost children to suicide, by people who had spent their careers studying suicide – anything to help her understand the terrible event that had so irrevocably altered her family. She searched her memory of their 23 years as sweethearts and spouses, trying to figure out how the unthinkable had become possible.
That kind of scrutiny sometimes can intensify sorrow, not lighten it. But through her grief, Mrs. Ruocco, now manager of suicide outreach and education programs for the nonprofit Tragedy Assistance Program for Survivors (TAPS), has quietly become an important figure in the effort to respond to suicides by military personnel.
"The experience of living through a loss to suicide raises question after question for the survivor," says Cmdr. Aaron Werbel, manager of the Marine Corps Suicide Prevention Program (MCSPP). "But through that – in Kim's larger efforts in suicide prevention and in her work with the Marine Corps – her work is helping to save other lives."
---