People making a difference: Gunnar Swanson
An Iraq war veteran has dedicated his life to helping children affected by conflicts in Iraq and Afghanistan.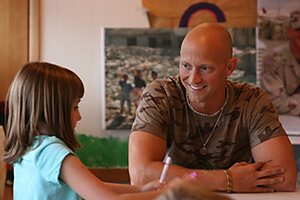 David Conrads
What would impel someone to leave a good job and a great life in the Florida Keys and move to rural Minnesota in a snowstorm in February?
For Gunnar Swanson, it all started six years ago, when he was serving in Iraq with the 957 Multi Role Bridge Company of the North Dakota Army National Guard. One afternoon in 2003 he found himself aiming his M-16 rifle at a young Iraqi boy, warning the child, in a strong, nonverbal way, not to come any closer. The boy froze in his tracks, a puzzled look on his face, then ran off.
In his 12 months in Iraq, which included surviving a close call from an exploding rocket-propelled grenade, this experience was one that affected Sergeant Swanson the most.
Just three months earlier, the same scene would have played out in a completely different way. Then, Swanson and his fellow soldiers enjoyed frequent contact with the local children – talking with them, picking up some Arabic words, taking pictures, giving the kids candy and food, and buying souvenirs and ice from them. For the troops, these encounters were a reminder of home and an invaluable morale boost.
But as violence increased and insurgent activity escalated, more and more Iraqi children were coerced, sometimes threatened, into joining insurgent groups, who then used them against the American soldiers. With kids now representing a potentially dangerous or deadly distraction, all contacts with children were ordered to stop.
---