Helping orphans, Tibetan and Chinese alike
Tendol Gyalzur returned from exile to provide homes for children in her native Tibet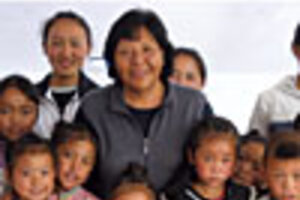 Stephen Kurczy
ShangriLa and Lhasa, China
Fifty years ago, the parents of Tendol Gyalzur were two of about 85,000 Tibetans killed during the suppression of the uprising against Chinese rule in Tibet that pushed the Dalai Lama into exile.
Only 7 years old at the time, Mrs. Gyalzur grew up feeling hatred toward the occupiers who'd orphaned her. Yet today, she works closely with the Chinese government as the founder and director of Tibet's first private orphanage.
"When I was young, I thought the Chinese were without heart, without love," says Gyalzur during an interview at her second orphanage, in Shangri-La (also known as Zhongdiàn), a town in China's southwestern Yunnan Province. "Now, after starting this orphanage, I think that there are many Chinese who love. The government cooperates with our project and this, I think, is a kind of love."
Gyalzur says she has learned acceptance and how to forgive from the children at her orphanages. They call one another brother and sister, yet they come from seven ethnic groups, including Tibetan and China's majority ethnicity, Han, groups who fought in 1959 and continue to harbor animosity to this day.
"Many people – the Chinese, the Tibetans – can learn from our children how to live in peace," Gyalzur says.
---