The need to feed hungry families cultivates new interest in gleaning
Corinne Almquist wants to restore the biblical tradition of harvesting what farmers leave behind.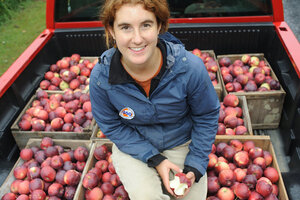 Sarah Beth Glicksteen/ The Christian Science Monitor
Clusters of plump, wine-red Empire apples hang from sagging boughs, yearning to be picked. A small group of volunteers is obliging, quickly filling a truck bed with wooden boxes of fruit.
They're led by a smiling, energetic young woman, her red hair pulled back and practical rubber boots on her feet, ready for tromping in an orchard on a day that threatens rain.
Later that afternoon Corinne Almquist will deliver some 20 bushels of apples, about 1,000 lbs., to a food shelf for free distribution to hungry local residents. Sunrise Orchards in Cornwall, Vt., where Ms. Almquist and her helpers have been gleaning, can't sell the apples: Most have cosmetic blemishes caused by being pelted in a late summer hailstorm. Though grocery chains won't buy them, they're still tasty and nutritious.
Gleaning – harvesting leftover crops for the poor – is an idea as old as the Bible. In the story of Ruth she gleans in the fields of Boaz and the two fall in love. Leviticus urges farmers to leave the corners of their fields unharvested, providing food for the poor and strangers. The practice was common in 19th-century France, too, celebrated in Jean-François Millet's 1867 painting "The Gleaners," which shows women picking through a harvested wheat field.
But gleaning is also finding modern advocates in the United States as the recession eats a hole in many family budgets.
---