Saving cultural treasures in war-torn lands
Stuart Gibson circles the globe to help endangered museums undergo rebirth.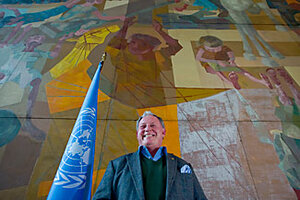 Ann Hermes/Special to The Christian Science Monitor
Stuart Gibson reveals not one soupçon of jet lag as he recounts his just-concluded visit to Iraq's Mosul Museum, now a husk of a building where chunks of plaster still litter the floor. Instead, this champion for preserving world cultures seems to radiate energy.
Mr. Gibson has become a world traveler: helping a textile museum in Kurdistan, organizing a cultural conference in Mongolia, assisting the Hermitage museum in St. Petersburg, Russia. As senior cultural expert for the United Nations Educational, Scientific, and Cultural Organization (UNESCO), he's devoted the past 19 years to saving museums threatened by strife.
"Every museum has a soul," he says. "It's different for each of them. You have to be very sensitive to the soul, to the spirit of the space."
His graceful style and gentle suggestions have won him many friends.
"We've been isolated from the entire museum world, that is true," says Lolan Sipan, curator of the Kurdish Textile Museum in Arbil, the capital of Iraq's Kurdish region. "Stuart Gibson spent three weeks in Kurdistan helping us and giving us advice. During the time that he worked with us, it became personal."
---