Healing the visible – and invisible – scars of war through flag football
Iraqi war veteran Nico Marcolongo founded the 'Buddy Bowl' to benefit military veterans.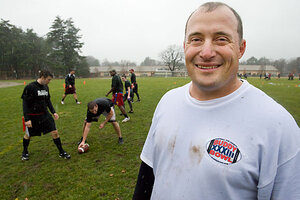 Mary Knox Merrill/Staff
Never mind that the rain is coming down in sheets and a nor'easter is whipping up wind in 20 m.p.h. gusts. Nico Marcolongo is undeterred. With a sturdy Marine stride and the bellowing enthusiasm of a motivational speaker, Mr. Marcolongo is here to "heal through football."
On the surface, a flag football tournament in a soggy Boston suburb may not seem remarkable. But Marcolongo has a proven knack for turning the ordinary into a powerful force for good, and having fun doing it.
Today is no exception. The Iraq war veteran's effusive leadership dissolves otherwise stoic New Englanders into laughter as his team, the "Mongo Maniacs," gets progressively muddier.
This is Buddy Bowl (buddybowl.org), a football charity fundraiser that supports disabled military veterans and fire and police first responders.
"I'm following my passion of helping troops and their families recover from visible and invisible wounds," Marcolongo says. "We took our love of football and channeled it to support a worthy cause."
Buddy Bowl is a culmination of all of Marco­longo's pursuits: football, military, and community. His ability to weave together unrelated groups has turned what was a casual pickup game among friends into the all-volunteer, nonprofit Buddy Bowl Inc. Since 1999, the annual tournament has raised more than $380,000.
The Millis event was the first East Coast tournament – actually the first tournament outside San Diego. Missing it wasn't an option for Marcolongo, who flew 3,000 miles to run around in the rain. He hopes to grow many more Buddy Bowls in communities around the country to support local military charities.
---