Packing 400 lunches - and love - to serve the homeless
Kansas City's 'mother of the streets' rises at 4:30 each morning, packs 400 decorated bags, and then seeks out the homeless.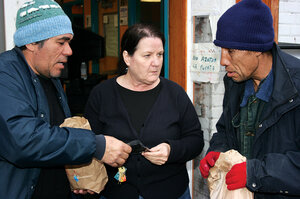 David Conrads
For years, Marcia Merrick began her day making lunches for her two children. Her kids are grown up now, but Ms. Merrick still makes lunches every morning – 400 of them. Each decorated paper bag contains a peanut butter-and-jelly sandwich or a bean burrito, chips, fruit, and two homemade cookies. She also includes a note of encouragement – and then distributes them to the homeless of Kansas City, Mo.
Dubbed the "mother of the streets," Merrick starts every day (Christmas and other holidays included) at 4:30 a.m. so she can finish her preparations and make the 15-minute drive to downtown Kansas City by 6 a.m., the time when most homeless shelters close and their overnight guests are turned out. She also makes stops at homeless encampments tucked away in secluded spots around the fringes of the city, under bridges and highway overpasses, and along the banks of the Missouri River.
Each day is a little different. She gives out half of the 400 lunches in the morning and the rest during a similar afternoon run, before the shelters open again at 4 p.m. The time in between is taken up with other tasks, such as driving someone to a social services office or to court or a health clinic. She also gives away items like clothing and bedding based on individual needs. In addition, Merrick and the volunteers who work with her help some 370 homeless families a year.
Merrick doesn't just feed and clothe the homeless. She talks with them, learns their names, listens to their stories, and gives them hugs and encouraging words. As a result, she's well known on the streets of Kansas City and has the trust of many of the city's homeless.
---