Mary Hutton frees Asia's endangered bears from lives of torment
By creating bear sanctuaries in Cambodia and India, Mary Hutton has kept endangered bears from being exploited in many cruel ways.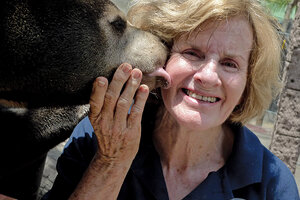 Tibor Krausz
James and his sister Rose were discovered hog-tied and half-starved in a wildlife trafficker's truck. Both Asiatic black bear cubs would lose a paw to injuries inflicted by poachers' snares.
Archie and Emily were brought from Battambang in northwest Cambodia, where they were confiscated by a wildlife rescue team from a man who was "milking" the bears for their bile in his garage.
Kong was kept as a pet in a bar, his sight permanently damaged from the meager diet of leftovers and beer. Holly was rescued from a restaurant just as the nine-month-old cub was about to be used as ingredients for a local delicacy – bear paw soup.
At Mary Hutton's bear sanctuary in Phnom Tamao, 25 miles south of Cambodia's capital, Phnom Penh, all the furry residents were once destined for a life of misery or an early death.
Yet thanks to the Australian woman's Free the Bears Fund, Ms. Hutton's ursine protégés – 106 so far and counting – now live happily on 17 acres of landscaped woodland with scenic rocky outcrops.
Endearing creatures with shambling gaits and mischievous temperaments, the bears traipse aerial walkways, splash about in pools, doze in their dens, or rummage for honey-sprinkled delicacies stuffed into lengths of bamboo in stimulating games of hide-and-seek devised by keepers. Even bears missing a paw or forelimb have learned to climb again.
"None of these bears had a hope," Hutton says, standing beside a nursery where rescued cubs run amok. "Now they have a second chance of life."
---