A California artist works to bring health care and education to nomads of Niger
Leslie Clark, a California artist, creates 'fixed points' along nomads' routes to bring health care and education to Niger.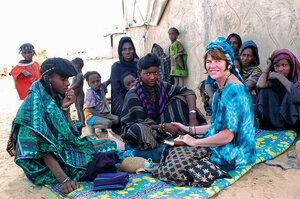 Hannah Armstrong
At the Doli school for nomads, the teacher pounds on a hubcap each morning to summon children. Many don't hear it because they are too far out in the bush, scouring the scorched land for pastures to nourish their herds.
Supplying education and health care to nomads in northern Niger is no easy task. But it is essential to a strategy hatched by Leslie Clark, a California artist and founder of the Nomad Foundation, which helps nomads hang onto their lifestyle in the world's poorest country.
In northern Niger, tribes of Tuareg and Wodaabe nomads shuttle herds around the flat, semiarid grasslands of the Sahel, a belt of land across Africa that divides the uninhabitable Saharan dunes from fertile farmland farther south. It is starkly beautiful land, where stripped acacia trees stand out like lightning bolts against a vast blue-gray horizon.
Life is barely sustainable in the parched Sahel. Nevertheless, pastoral nomads cling fiercely to traditions that are 1,000 years old.
But now they face new risks: desertification – the encroachment of the Sahara on pasturelands – and infiltration by the North African branch of Al Qaeda into their lawless territory.
"With changing environmental and political situations," Ms. Clark says, "there are adaptations that have to be made. We're trying to help them adapt."
---