A passion to clean up the Pacific Ocean's great 'garbage patch'
Avid sailor and educator Mary Crowley is recruiting help to clean up the North Pacific Trash Gyre, a 'garbage patch' of plastic and other trash in the middle of the Pacific Ocean.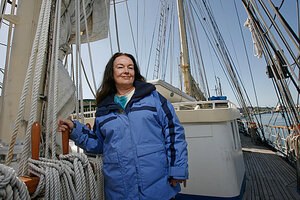 Tony Avelar/The Christian Science Monitor
Mary Crowley would rather be at sea. But she's not. Instead, she is in a small conference room at a roadside Marriott in this landlocked town north of Sacramento.
Around her are mainly men, many with beards, and many with baseball caps pulled down low and arms crossed tight. They are listening. Many of them would also rather be at sea.
Can these wishes be joined? We shall see in the next month or so.
Ms. Crowley has long hair, a ruddy outdoor complexion, and a sincere manner. She wants to sail west in the next month or two, out to what is called the North Pacific Trash Gyre. Her goal is to start cleaning up the plastic trash that has leaped into social consciousness over the past couple of years.
And she is urging some of the independent fishermen meeting here for the annual gathering of the Western Fishboat Owners Association to join her, using their boats to haul back garbage.
Whether they do or not, and it seems possible some will, Crowley leaves little doubt she will set sail this spring, regardless. That determination is bringing her cleanup effort, called Project Kaisei, attention and resources to combat what strikes many as an overwhelming problem.
"It's audacious because the scale is so intimidating," says Matt Tinning, a spokesman for the Ocean Conservancy in Washington, D.C., a nonprofit group that mounts an annual global volunteer effort to clean the world's beaches. "Project Kaisei has captured the public spotlight by shining a light on the problem."
---