A missionary priest becomes a master builder in a booming Bolivian metropolis
For decades, missionary priest Sebastián Obermaier has built churches, schools, and clinics in the poor Bolivian boom town of El Alto.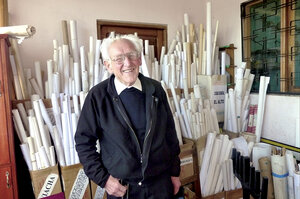 Sara Shahriari
Every day hundreds of people fly into El Alto, Bolivia. Circling to land, the passengers stare down on a vast, windblown city of unpainted brick houses and tin roofs, sitting on narrow streets and squares.
The most arresting aspect of El Alto is its churches, placed with precision like chess pieces on a grid. Dozens of them, each bright white or blue, punctuate the drab landscape.
The man behind these churches is a missionary priest from Germany named Sebastián Obermaier. But it turns out they are just the most visible part of his network of social projects.
Thirty-two years ago when Father Obermaier arrived in El Alto it was a town of 80,000 people growing on the high plains next to La Paz, Bolivia's de facto capital. Today El Alto has surpassed La Paz and is the second-largest city in Bolivia, a boiling pot of 1 million people.
"No one could imagine this," Obermaier says. "The city of La Paz is now a little thing compared with El Alto."
In Obermaier's early days there were precious few services for Bolivia's indigenous rural population – no health centers, little electricity or running water, few schools. When these people, mainly Aymara Indian subsistence farmers, migrated to El Alto, they lived the same way.
Few formally trained doctors or dentists lived in the city. Residents were cut off from the traditional healers in their villages. Infant and maternal mortality were high, and emergency medical care nearly nonexistent.
---