A business course that puts personal growth on the bottom line
Something of a rock star among business school teachers Srikumar Rao offers a class that gives his students broader perspectives on their lives.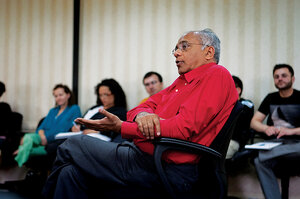 Taylor Weidman/The Christian Science Monitor
As Greg Johnson was dealing with a serious illness in his family, the thought came to him, light as a feather, that along with his grief and worry, he was feeling bolstered by something powerful, but unexpected.
Gratitude.
Gratitude for all that this family member had taught him. Gratitude for the love and support expressed by close friends and colleagues.
Then another realization dawned. That gratitude had grown up in an unlikely place. It had a lot to do with a class he had recently taken that allowed him to look at his life in a fresh way.
The class, called "Creativity and Personal Mastery," is taught by Srikumar Rao. It's been known to change lives, as Mr. Johnson and many others can attest.
Though dealing with the family illness has been tough, Johnson says, "The idea of being grateful for so much is just coming naturally." Speaking of Dr. Rao's class, which Johnson took last year, he adds: "It's changed my approach to my job and my life."
That Rao's course leaves a deep impression on students is fitting, since it was a student who changed Rao's own life. The college professor was trudging along in the early 1990s doing unsatisfying academic work at a not-famous university and was, as Rao concedes, "really feeling sorry for myself."
One day a student came up to ask him a question. With his usual candor, Rao says he thought at the time, "What a stupid student."
Subsequently, Rao learned that the student was holding down two jobs, as well as attending classes. His disdain turned to compassion.
"I thought, 'I should be grateful,' and realized it was my job to see if I could truly excite her and the other students," he recalls.
In the wink of an eye, a professor was reborn. Rao has gone on to have extraordinary success developing and teaching the class, which his students just call CPM.
---
Follow Stories Like This
Get the Monitor stories you care about delivered to your inbox.