'Wolf man' Doug Smith studies Yellowstone's restored predators
'Nature without wolves is not nature,' says the field biologist and project leader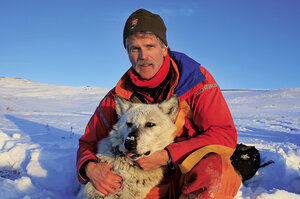 U.S. National Park Service
Yellowstone National Park, Wyo.
Doug Smith was alone, setting traps in the backcountry of Yellowstone National Park, when he got that eerie feeling that he was being watched. He looked up directly into the pier­cing eyes of a female wolf, just feet away.
As project leader of Yellowstone's wolf reintroduction program, one might assume Dr. Smith has this type of encounter all the time. But in 16 years on the job, he's rarely been face to face with the wolves he studies. He usually views them from afar, through a telescope or from a helicopter. If they're close up, the wolves are tranquilized so he can put a radio collar on them.
Smith has studied wolves since he was 18, and credits his father's love of the outdoors as an influence. After earning a PhD in ecology, evolution, and conservation biology from the University of Nevada, he studied with leading wolf researchers.
He signed on with Yellowstone's wolf project in 1994 as a field biologist, and two years later became the project leader. It's been an opportunity to study wolf behavior while restoring an essential component to the natural world, he says.
"Nature without wolves is not nature," he says. "I have a deep-seated, fierce love of nature, and I'm very afraid that slowly, piece by piece, we're losing it all. The most important thing to me in life, outside of family, is preserving wild nature. And wolves are in the center of that."
This year marks the 15th anniversary of the reintroduction of wolves to Yellowstone National Park. The last wolf was killed in Yellowstone in 1926, as the Park Service eradicated all predators except bears.
"The mind-set was 'good animal' and 'bad animal,' " Smith explains. "Bad animals killed what we liked to hunt."
---