Helping migrant workers prove who they are – and avoid exploitation
When Haitians cross into the Dominican Republic to work, they often lack official documents that can help protect them from abuse. That's where Johnny Rivas steps in.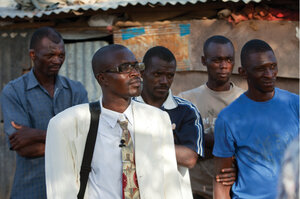 Melanie Stetson Freeman/Staff
Guayubín, Dominican Republic
The intense midafternoon sun is cooking the quiet town plaza here when Johnny Rivas returns on his motorbike, still wearing his oversized white suit.
He looks exhausted. Over the past few hours Mr. Rivas has emceed a workers' day celebration for Haitian immigrants, hosted a church ceremony, and shaken hundreds of hands.
He has sung along to both the Haitian and Dominican Republic's national anthems and has rented and returned 200-some folding chairs. And, most important, over and over he has given his pitch about identification badges – the central part of his effort to formalize the region's vast and marginalized Haitian workforce.
But Rivas denies he is fatigued.
"I cannot be tired," he says with a smile. "There is still work to do."
Sure enough, he seems to perk up as he starts talking about the needs in one of the nearby bateyes, the ramshackle towns in the Dominican Republic where Haitian laborers live. Bateyes tend to be poor, with high unemployment.
In this agricultural northwest region of the country, Haitians also face another huge problem: documents, or, more accurately, the lack thereof.
"People who are undocumented, they're very vulnerable here," Rivas says. "Many of the Haitians who are here, they don't even have a birth certificate. This is why we took the initiative to give them the badges."
Many of the estimated 1 million Haitians who live in the Dominican Republic struggle to obtain official documents necessary to fully participate in society. In this land of sweeping banana fields and rustling sugar cane plantations, the threats facing undocumented immigrants are especially acute.
---