Once a high-tech exec, he now shares his passion for reading in Asia and Africa.
John Wood has turned his love of books, reading, and education into more than 10,000 libraries through 'Room to Read.'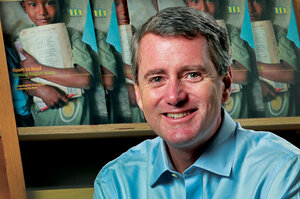 Tony Avelar/The Christian Science Monitor
Back in the day, the local library in Athens, Pa., had an eight-book checkout limit. But there were exceptions. And young John Wood was one of them.
In order not to crimp his voracious reading habit, the library boosted his limit to 12 and John went on his merry way, gobbling up books the way most children do candy.
It's little wonder that today this successful social entrepreneur likes nothing more than a globe-wrapping airplane flight. It offers the ideal cocoon for a good read.
Mr. Wood gets lots of airborne reading time these days as founder of Room to Read, a San Francisco-based nonprofit that has spent the past decade building children's libraries and promoting literacy and education in some of the world's poorest regions. He averages five long-distance trips per year to visit the program's operations in Asia and southern Africa.
Under his tutelage, Room to Read has grown into a $30 million per year venture.
Despite his love for books, there is nothing bookish about Wood. A distance runner with a fondness for the outdoors, Wood was on a self-guided trek across Nepal in 1998 when his future veered from the more conventional path he had forged as a Microsoft marketing executive.
On Day 1 of a 21-day trek, Wood had a chance meeting with a local education official. As they chatted at a teahouse, the official extended an invitation to visit a local school. Off they went the next morning.
---