Entrepreneur Jimmy Pham went back to Vietnam to help lift others out of poverty
His training program in Vietnam pulls poor youths off the streets and sends them into good jobs at hotels and restaurants.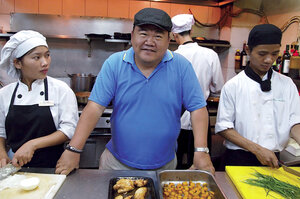 Tibor Krausz
Sporting the paunchy build and sunny disposition of Vietnam's popular Laughing Buddha, Jimmy Pham drops by his street-kid charity's trendy four-story restaurant in central Hanoi.
Mingling with the spirited young staff, "Uncle Jimmy" tugs at earlobes affectionately, banters with servers, and straightens the toques of the industrious cooks.
In a kitchen bustling with orders, a tray of crispy potato cubes catches Mr. Pham's eye. Furtively he nibbles some.
"That's a no-no," Pham notes apologetically to a reporter. "But they didn't see me!" he quips. Hygiene and discipline are priorities at KOTO ("Know One, Teach One"), the nonprofit hospitality training institution for disadvantaged youngsters founded by this Vietnamese-Australian social entrepreneur.
Revenue from KOTO's restaurant in Hanoi, popular with Western tourists, helps fund intensive two-year training programs at centers in Hanoi and Ho Chi Minh City (formerly Saigon), where Pham now lives. Spiffily uniformed youngsters work in three shifts as either gourmet chefs or "front of house" trainees.
They receive free housing, meals, and monthly allowances. Recently, though, two of them helped themselves to the tip box – another no-no.
"You deal with [troubled] kids trafficked by their mother, raped by their uncles, tortured by their father," Pham observes.
Other students implored him not to expel the culprits, he adds, attesting to strong bonds fostered by shared hardships. Until recently they were all destined for lowly menial jobs, or worse: a life of crime, exploitation, and penury.
"I wandered the streets begging," notes Tran Quoc Anh, a bashful, boyish-looking 18-year-old.
---