Matching kids with adults who live their dream
Chris Balme puts together at-risk teens and business-world mentors who show them a brighter future.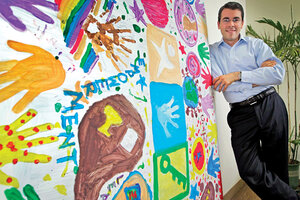 Tony Avelar/Staff
To the pumping beat of Aretha Franklin, and with pizza-laden paper plates poised precariously on their laps, families sit in the crowd at the assembly hall of Horace Mann Middle School here.
They are waiting. They are looking slightly anxious.
It's not graduation day – though it is something akin. The seventh- and eighth-graders here are at a pivotal time in their young lives, when school dropout problems can begin, experts say.
Recognizing the threat, these families are participating in a one-of-a-kind program called Spark, which aims to boost graduation rates through one-on-one apprenticeships.
The meeting will pair students with volunteer apprentice teachers in what Spark cofounder Chris Balme calls a "beautiful and amazingly awkward moment." Lawyers, hair stylists, and software developers will meet up with students who have selected their occupations as the ones they would most like to learn about.
The adult volunteers march in, find their apprentices, and begin a relationship that will likely transform both their students and themselves.
The wide brown eyes, half-smile, and cocked head of student Maria Ramos suggest she is both dazzled and puzzled by Leetta Klink, a hairdresser who has come from the other side of San Francisco to meet her. "I've always pushed her to go for it," says Maria's mother, Claudia, as she sits back to watch the encounter unfold.
Spark apprenticeships offer weekly, semester-long, one-on-one workplace experiences that bring economically disadvantaged teens into contact with a world they have probably only imagined.
---