She uses paint, brushes, and volunteers to clean up graffiti and build communities
In Philadelphia, Jane Golden oversees the Mural Arts Program, which gets citizens involved in painting over graffiti while celebrating their history and culture.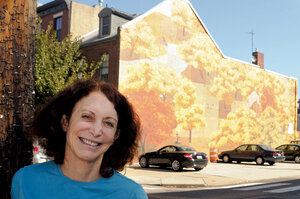 Sabina Louise Pierce/Special to The Christian Science Monitor
Twenty-six years ago, Jane Golden took to the streets of Philadelphia armed with paint, brushes, simple designs, and a small contingent of helpers.
Her goal? Wipe out the city's ugly graffiti. Her weapon of choice? Murals.
Today, 3,000 walls later, her work has morphed into the City of Philadelphia Mural Arts Program, the nation's largest such initiative, a joint, public-private mix of artmaking, art education, and art-as-therapy. A staff of 50 – many of them former graffiti artists themselves – helps her.
Since 1984 they have put paintbrushes in the hands of more than 35,000 city kids. They have brought art to prison inmates and drug addicts, as well as wary stoop sitters. The waiting list for murals to be painted here is 2,000 walls long. Artists far beyond Philly want in on the design work.
Under Ms. Golden's tenure, Philadelphia has become known as "The City of Murals." The murals now incorporate mosaics, fabric, plant materials, even light and sound, and her canvases go beyond just walls to places such as an oil refinery tank.
Some 15,000 visitors last year took tours of Golden's murals. Many who come are officials from Paris, Rome, London, and other cities seeking graffiti-prevention advice and insights into how Mural Arts keeps the murals so remarkably undefaced.
The answer lies in collaborating with residents on each mural, Golden says. Averaging 30 feet by 35 feet and costing about $20,000 each, the murals are not imposed on a neighborhood but rather reflect the nature of that neighborhood, whether it's love of a Philadelphia musical great such as Patti LaBelle or Mario Lanza or a plea for racial harmony.
---