Her guiding principle when working with at-risk teens: Never, ever give up
Through project Roca (Spanish for 'rock') Mary Baldwin reaches out to teenagers in Massachusetts to keep them off the streets and out of jail.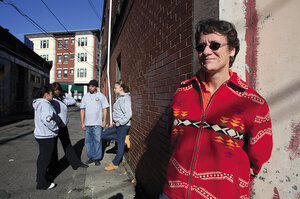 Melanie Stetson Freeman/Staff
The last thing Mary Baldwin would call herself is a hero. In fact, she doesn't like to talk about herself; she'd rather let others do the talking. Not about her – about their own transformed lives.
Yet so many of those people would tell you that they changed their lives directly because of Ms. Baldwin and her unwavering conviction that "as long as you're living, you have a chance."
Baldwin – or simply "Molly," as everyone knows her – became interested as a teenager in community work and especially in prisons. "I found that our penal system is ineffective, expensive – and dangerous," she says. "I thought, there's got to be a better way."
So almost 23 years ago, when the state of Massachusetts gave her a $134,000 grant to start a program to prevent teen pregnancies, she dived in.
Today Baldwin, and "some fabulous teachers and coaches," have parlayed that first grant into an $8 million project called Roca (Spanish for "rock"). Last year, Roca served more than 700 youths through an educational and training intervention program, as well as another 150 young people through less intensive services.
Roca has become a valued part of the community: a training, counseling, and all-around life-transforming center for some of the most at-risk young people in the eastern Massachusetts cities of Chelsea and Revere, and also in East Boston, as well as in Springfield, in western Massachusetts.
They all are places where gang violence and poverty intersect in a seemingly endless cycle.
---