How a college president toppled the ivory tower
Pine Manor College was once a haven for privileged white women. Now its seeing a surge in low-income and minority students.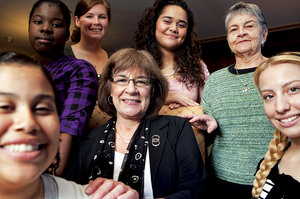 Melanie Stetson Freeman/Staff
To pay for her education at a public university in New Jersey, Gloria Nemerowicz worked in a bakery, a meat market, and a dry cleaning shop.
Her immigrant parents hadn't gone to college and thought her desire to do so was a bit strange. But as long as it didn't cost them anything, they were fine with it.
That's one reason Dr. Nemerowicz radiates respect for students who must pinch every penny or tread an unfamiliar path as the first in their families to go to college.
The young women at Pine Manor College, located on a bucolic campus on the outskirts of Boston, call Nemerowicz by her first name – something she encourages even though she's president of the college. Long a haven for privileged white women, under her leadership Pine Manor has been transformed into one of the nation's most diverse liberal arts colleges.
Students hail from Haiti and Maine, Boston and Mexico. Their SAT scores and grades are usually just average, and more than 60 percent qualify for low-income federal Pell Grants.
But at Pine Manor, and dozens of small colleges like it around the country, students are supported and valued for the life experiences they bring to the classroom.
Now Nemerowicz is drawing on her experience here to answer President Obama's call to restore the United States as a world leader in producing college graduates, particularly by raising the number of degrees earned by underrepresented groups.
---