Children who lend a helping hand show they can make a difference and change the world
We highlight five kids and teens who are making a difference through volunteer opportunities, proving that helping hands can be child-sized too.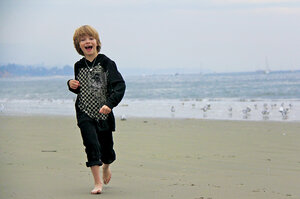 Courtesy of Timathea Workman
Parents want their kids and teens to care about others – whether at school, in their community, or in need a continent away.
The good news is that children "are sort of hard-wired" to want to help others, says Michael Ungar, author of "The We Generation: Raising Socially Responsible Kids." "They want to take on responsibility."
While adults do wonderful things to help others, even more amazing is the number of children and teens who are "making a difference," too.
"Childhood projects are a great time to sort of step back and let the child develop those skills, from time management to seeing the impact on others if they don't fulfill their obligations," says Dr. Ungar, a family counselor and professor of social work at Dalhousie University in Halifax, Nova Scotia.
The bottom line: Support, but don't shove. "Our kids are really watching us," he says. "If we're showing empathy to others, if we're cooking a casserole for a neighbor who's fallen down and broken her hip, if we're doing those small things in our community," kids will notice, he says.
Below, we highlight five outstanding young differencemakers – children and teens who have turned their care for others into impressive actions.
They show that there's no age barrier to becoming a force for good.
Wyatt: Making clay wiggle to save the oceans
Wyatt Workman was conducting his phone interview from a closet in his house.
It apparently was the 7-year-old's private office, a place to speak with an inquiring reporter in some confidentiality.
---