A Nobel Peace Prize winner finds spiritual values in planting trees
Nobel laureate Wangari Maathai, who founded the Green Belt Movement, says spiritual values are the key to healing ourselves and our environment.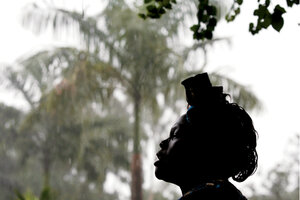 Radu Sigheti/Reuters
On a visit to Japan, Wangari Maathai learned the story of the hummingbird and the forest fire. While the other animals run in fear or hang their heads in despair, the hummingbird flies above the fire time and again, releasing a few drops of water from its tiny beak.
"Why do you bother?" the other animals shout at the hummingbird. "I'm doing the best that I can," the hummingbird replies.
"It's such a beautiful story," Ms. Maathai says, thinking of the immensity of the world's environmental problems. "There is always something we can do with our little beak like the little hummingbird."
In 2004 Maathai was honored with a Nobel Peace Prize for her work founding the Green Belt Movement, which enlists villagers, and especially women, to improve their local environment.
Since then, she's concluded that people's values are what motivate them. If the values are good ones, good actions will follow. Hence it's importance for people to tap their spiritual traditions for guidance in caring for the environment, she says.
"I saw that if people have [good] values, they can sustain what they are doing," says Maathai in a recent interview at a New York City hotel not far from the United Nations, where she's addressed the General Assembly in the past.
"If you don't have good values, you'll embrace vices," she says. And if we give in to the vices, "We destroy ourselves. We destroy the environment. If we can embrace [good] values, we also heal ourselves. And in the process we heal the environment."
That's the message of her new book, "Replenishing the Earth: Spiritual Values for Healing Ourselves and the World."
People learn these values from their parents, their teachers, and their religious leaders, says Maathai, whose own background is Christian.
---