Pewee Flomoku saw Liberia's child soldiers through a camera lens. Now he promotes peace
Photojournalist Pewee Flomoku captured images of child soldiers and the other horrors of war in Liberia. Now he's working on free and fair elections.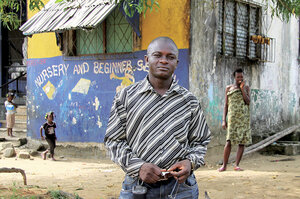 Sarah Birke
Pewee Flomoku is one of the few Liberians who can boast of having visited all 15 counties in a country that, although small, is difficult to travel around.
Finding his way into remote areas is important to his work as senior project coordinator of the access to justice program run by The Carter Center here.
Small villages are often far from police stations. Problems among locals can flare into violence. His job, Mr. Flomoku says, is to encourage people "to seek help rather than take matters into their own hands."
His team also trains police and traditional village chiefs in how to deal with complaints and how to mediate.
The importance of the work can't be overestimated. A fragile peace has prevailed since a brutal 14-year civil war ended in 2003. About 8,000 United Nations peacekeeping troops remain in the country.
"One reason war erupted was the lack of dialogue, which led to harbored grievances," Flomoku says. "That is why our work is important."
He knows the horrors of violence. Like all Liberians, he lost relatives and friends to the conflict. Two of his cousins remain in a refugee camp in nearby Ghana.
Flomoku got a close look at the war through his work as a photographer for the Associated Press. He took pictures of fighting, as well as of the war's hidden aspects: people fleeing their homes, starving women and children, and child soldiers.
Several times his life was in danger.
"Once, we came across people selling rather than handing out emergency aid. They damaged my camera and injured me," he recalls.
While many Liberians fled during the war, Flomoku was led to stay by a need to tell the truth. "I couldn't leave," he says. "I needed to tell the world what we were going through."
---