John Alston turns kids in hoodies into a choral band of brothers
An after-school program in Chester, Pa., gives at-risk teenagers a music education – and much more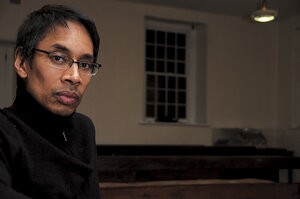 Sabina Louise Pierce/Special to the Christian Science Monitor
Even if they don't sing a single note of music as adults, the performers in the Chester Children's Chorus will make a difference in the world.
Of that much their founding director is convinced.
After all, his own participation in the Newark (N.J.) Boys Chorus opened a new world to the young John Alston when his home life was bleak and his father an alcoholic. Why not do the same for others?
So in 1994, Dr. Alston, associate professor of music at Swarthmore College, just outside Philadelphia, invited seven children to come sing with him on the bucolic campus. They were from nearby Chester, Pa., an impoverished city struggling against economic decline, its schools burdened with high dropout rates and abysmal academic achievement.
The seven children were the forerunners of what now includes the coed, 120-voice Chester Children's Chorus (CCC); a full-day summer program at Swarthmore; a new public-private Chester Upland School of the Arts; and formal musical instruction for public school students throughout Chester.
[Editor's note: The original version of the paragraph above indicated that the Chester Fund for Education and the Arts and the Chester Children's Chorus were related. They are two separate organizations, though Dr. Alston founded and heads both.]
Ultimately Alston wants membership in a chorus like CCC to be available to every child in Chester.
Gathered one recent frigid Thursday evening for study, supper, and song, the members of the chorus's young men's division took their places at long tables inside an icicle-covered Chester Friends Meeting house and cracked their schoolbooks.
---