Marc Gold travels Asia paying it forward through little acts of kindness
'Shoestring philanthropist' Gold pairs tiny but powerful donations with acts of kindness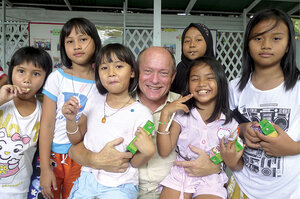 Tibor Krausz
Marc Gold spends most of his time on the road. One month he may be in India or Afghanistan; the next he's in Cambodia or Vietnam, both of which he's visited numerous times.
But he doesn't travel to see the sights. The retired community-college professor from San Francisco pursues his own brand of tourism: philanthropic travel.
"I go where the poor people are," Mr. Gold says.
He slogs muddy dirt tracks to far-flung Tibetan villages, scouts garbage heaps teeming with destitute scavengers in Indo­nesia, and legs it around slums in India.
Everywhere he goes, Gold performs acts of kindness, both random and preplanned. He hands out soccer balls and art supplies to children at a Tibetan orphanage. He helps an elderly scavenger in Sulawesi, Indonesia, open a small grocery store. He buys a year's supply of rice for battered women at a shelter in Jaipur, India.
He rarely spends more than a few hundred dollars. "For people who live on a dollar or less a day, $50 can make a big difference," says Gold, who has been dubbed "the shoestring philanthropist."
As little as $10, he adds, can get a poor child into school. "Imagine saving a woman's life for a dollar, the price of a candy bar [in the US]," he says.
---