Abigail Falik wants students to take a year off doing good abroad
Volunteering abroad between high school and college in a 'Global Citizen Year' helps students learn teamwork and leadership skills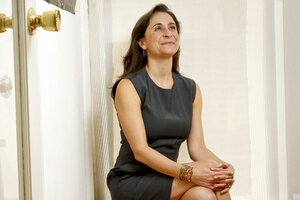 Tony Avelar/The Christian Science Monitor
If timing is everything, then Abigail Falik timed the launch of her nonprofit Global Citizen Year (GCY) with the precision of an atomic clock.
As America's young adults find themselves in a new global economy and job market, her idea has come to fruition at exactly the right moment.
A graduate of Stanford Uni­ver­sity and Harvard Business School, Ms. Falik spent more than 10 years in the fields of education, international development, and social enterprise before founding her one-of-a-kind, award-winning program in 2008.
Her goal: Provide idealistic young people with an experience that will help them become a new generation of leaders with an ethic of service.
It is a "vital idea whose time has most definitely come," says Andrew Zolli, executive director of PopTech, a conference and networking group that seeks innovative solutions to world problems.
GCY Fellows are high school graduates who spend a "bridge year" working in a developing country before entering college. They become conversant in the local language and receive social, educational, and cultural training. They also learn leadership skills.
"A growing Global Citizen Year is one of the best investments we can make in the education of Americans to be successful citizens and leaders in this ever-more-interconnected world," says former US Sen. Harris Wofford (D) of Pennsylvania, a cofounder of the Peace Corps and, he says, an "unabashed" supporter of Falik and GCY.
---