War veterans get help from Rick Iannucci's 'therapeutic riding' program
At his New Mexico ranch, Rick Iannucci invites war veterans suffering from PTSD and other problems to work with horses and heal their wounds.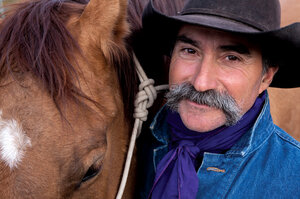 Melanie Stetson Freeman/Staff
Rick Iannucci, director of Cowboy Up!, a horse therapy program for combat veterans, keeps a little notebook with quotations in the back pocket of his jeans.
As he searches for words to explain how working with horses helps heal war-torn veterans, he pulls it out and reads aloud the words of Winston Churchill, who served in the Boer War: "There is something about the outside of a horse that is good for the inside of a man."
For 2-1/2 years, a stream of Iraqi and Afghan war veterans – many carrying both physical and psychological scars of combat – have found their way to Mr. Iannucci's Crossed Arrows Ranch, about 15 miles south of Santa Fe, N.M.
After first learning to groom and walk the specially trained quarter horses, the vets work their way up to mounting and riding them around the arena.
As the veterans bond with the horses and learn how to "read" them, they begin to heal and feel connected with the civilian world again, Iannucci says.
"Horses are so in tune with you – if you're uptight, they'll know," he explains. "They coax a certain level of contemplation out of you. They demand for you to be in the now. When the vets start working with the horses, they immediately start calming down."
Some arrive with physical disabilities, such as limited use of arms or legs wounded in combat. Others are dealing with traumatic brain injuries, a result of roadside bombs or sniper attacks. Many have been diagnosed with post-traumatic stress disorder (PTSD).
---